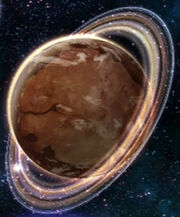 Kaurava 3 appears in Dawn of War SoulStorm the 4th game in the series. With Kaurava 1, 2 and 4. Kaurava 1, 2 and 4 have moons next to the planets. In the Dawn of War SoulStorm campaign you have a number of different factions to choose from. In the end there is only one faction left that owns of the Kaurava planet.
In the campaign of SoulStorm there is only two factions on Kaurava 3. Those factions are the Eldar and the Necrons.
Kaurava 3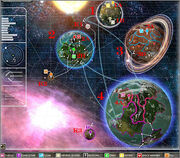 does not have a moon next to its planet it is the only planet in the Kaurava system that does not have a planet. If the Eldar defeat the Necrons they have one planet getting closer to victory visversa but the victory is computer generatered.